Michigan Stadium Seating Chart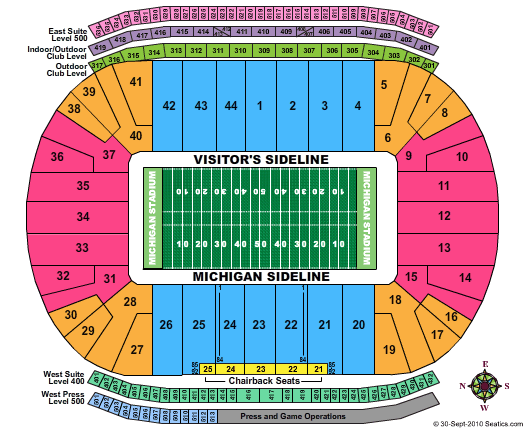 NOTE: Seating layouts may change depending on the event. Make sure you check the individual seating map when selecting your tickets.
Wonder how The Big House's seating works with more than 100,000 seats available? Here are some insights to the seating areas including the best seats in the stadium.
Also, with the large amount of audience, if you are not in the premium club seats, do expect to feel a little bit tight in your spot. Watching the game while standing may be the most comfortable even if you have a seat.
Student Seating
We all know that the student section will always be the rowdiest section in a football college stadium. This section happens to be in Section 25-33R in The Big House. Only Michigan Stadium students are allowed to sit in this section and a valid I.D. is required upon entrance.
Club Seating
Located just above the east sideline (where the visitors' bench is located) are the Club Seats for the Michigan Stadium. The Outdoor/Indoor Club seats have chairbacks, provide access to an indoor climate controlled lounge, and upscale cuisine and beverage options. These sections are very small, with only 5-8 rows per section.
Michigan Bench
The Michigan Wolverines bench is in front of sections 22-24. Where else, the visitors' bench is located in front of sections 1-2 and 44. Choose your seats carefully and be with your own crowd for your own safety.
What are the best seats at Michigan Stadium?
The best seats at Michigan stadium are located in the sections closest to midfield as every other football stadium in the world. For The Big House, it is specifically Sections 22-24, 1-2, and 44. Ideally, you should choose rows 10-30 so you can watch the plays develop from all corners of the field.
Reserve your seat and order your tickets today! Visit the events page to get started.
For more information on the ticket policy and the preferred ticket provider please view the Michigan Stadium tickets page.
For all upcoming events at the Michigan Stadium please view the Michigan Stadium events page.